Special Projects
Every once in a while I work on something that turns out special for one reason or another. Either is it something a client requests that pushes my skills or abilities, or it is something I just try and it turns out well. Always, these are true 'one of a kind' pieces, mostly because I can't muster the effort to 'go through THAT again, no matter how nicely it turns out.
When something special comes out of my shop and a client plunks down a bunch of money, I figure they like it enough to want to know the story behind it. Many times that story can be as interesting as the piece and in any event I am hopeful that the piece may stay around for a while and the owner might want to have something in writing about how the piece came about.
Back in the fall a client saw a piece of wood in my shop and despite my objections, commissioned me to make a table from it. I felt the piece was worth documenting for the client. So, with the permission of the client, here is the documentation for the cookie table you may have seen in the gallery here. I don't do this for every piece but some are just special.
_______________________________________________________________________________________
The Holstein Cookie Table
Information about the table and it's creation
between March 2018 and November 2020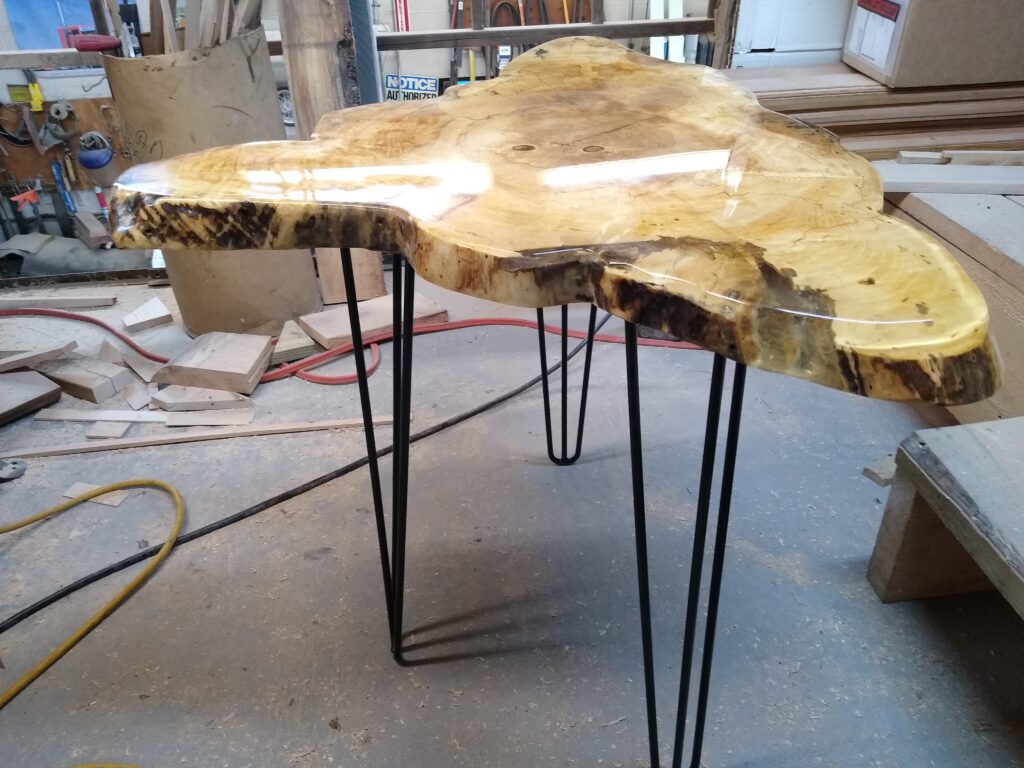 This table is made from Soft Maple tree which was dying from age and disease on the Holstein property when found in March of 2018 and felled for firewood. The tree was approximately 75 years old when cut. A ring count will give a more accurate age, but the approximate year it sprouted was around 1943. The stump was carved by chainsaw into a chair and remained as such for another year.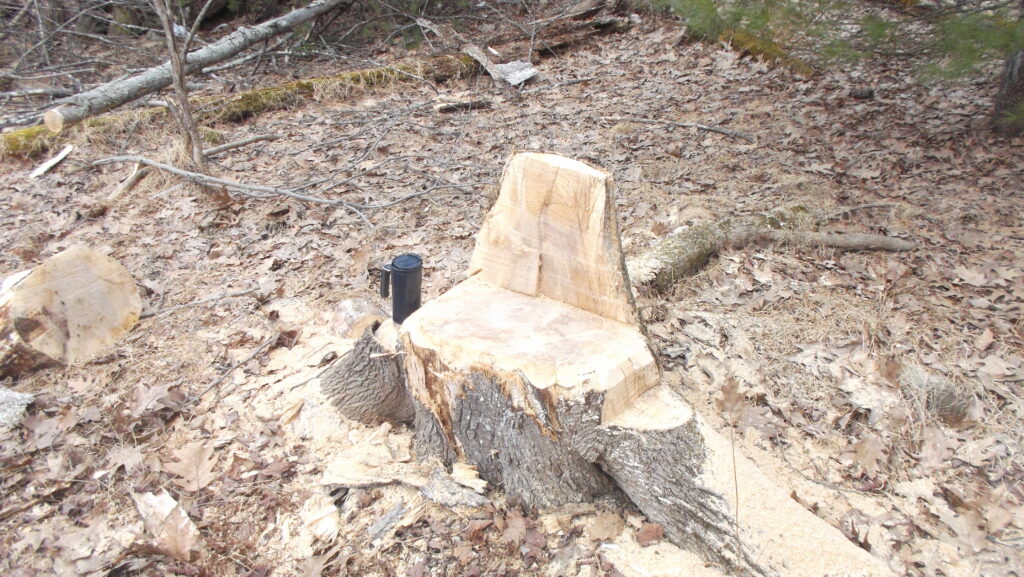 In February of 2019 the stump was in a bad rot state and the 'chair section' was cut off and a cookie removed from the level just below the chair.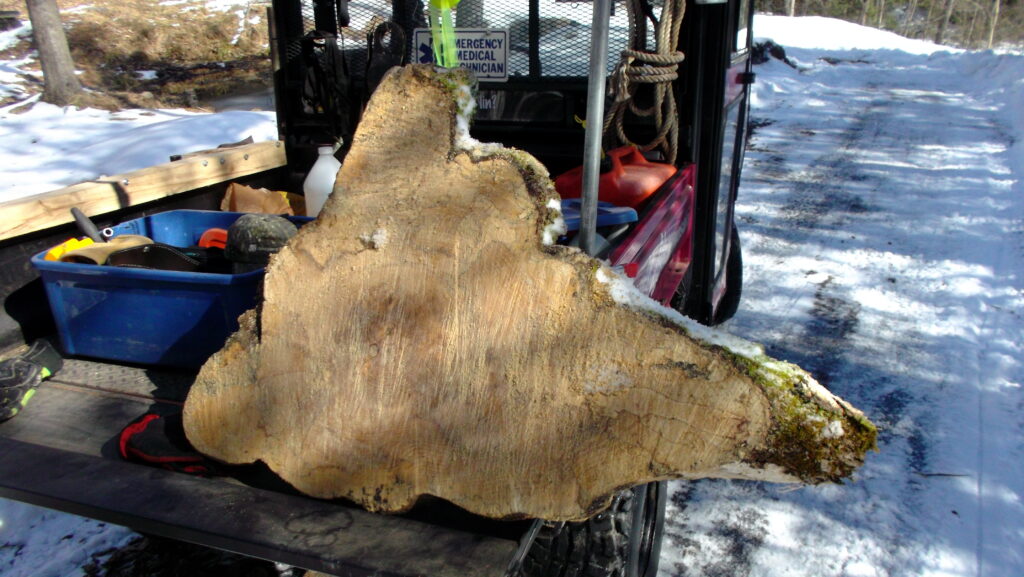 This was then moved to the shop at Woodsman Forest Products (across the road) to dry for several months. In late summer of 2019 the remaining bark was peeled and in the winter of 2019/20 the slab was rough sanded and used as a depository of all excess epoxy used on other projects. Eventually most of the drying cracks and rotted or pithy sections were secured and stabilized with epoxy and the slab was again sanded and a coat of Tung Oil was applied to the top. Remaining were some bug tunnels and pithy sections and epoxy pouring continued on a sporadic basis in these areas. The rest of the time this cookie sat in a corner with no plans for finishing.
In October of 2020 Neil and Emily saw the cookie in the shop and commissioned the actual table build. Work began in earnest. A rotten section was removed (actually fell out) where the 'V' section that is full through epoxy is seen.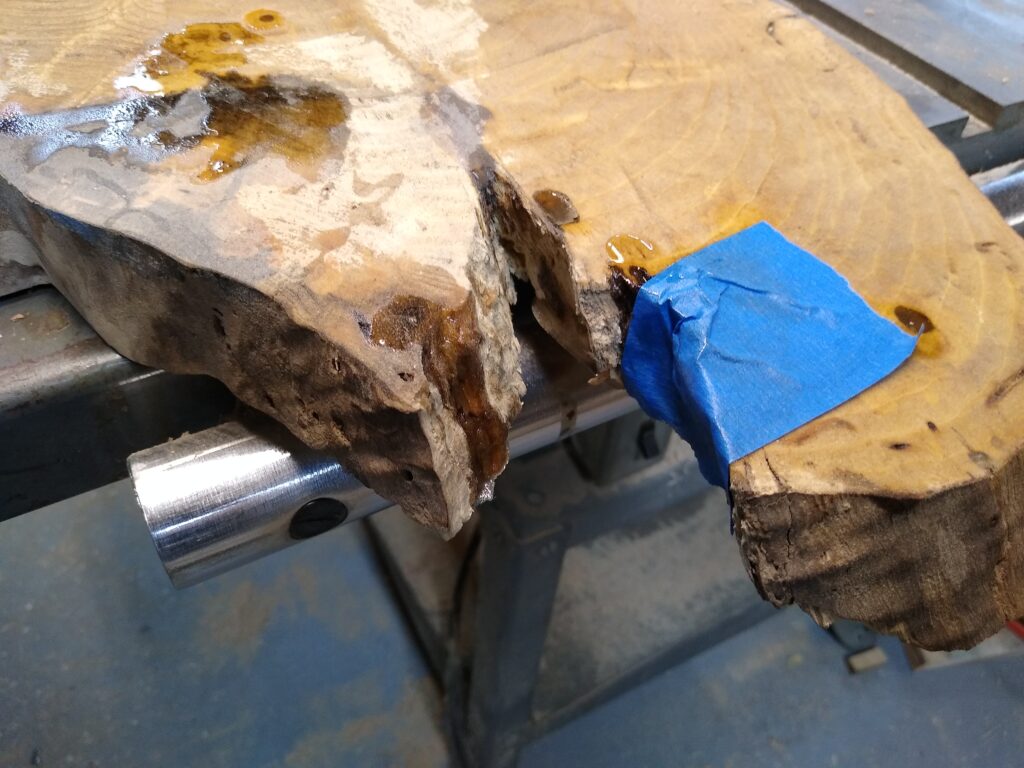 This void was filled with 4 separate pours of epoxy at different angles each time with different blocking, taping and damming required.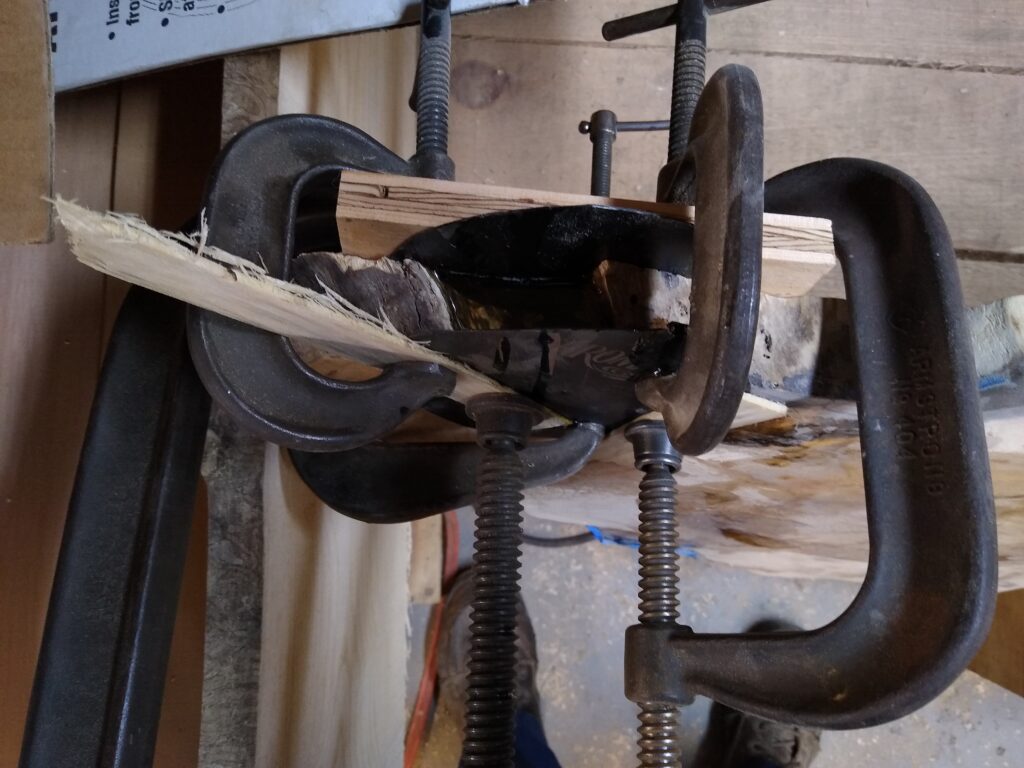 The filled notch after the pours at different angles.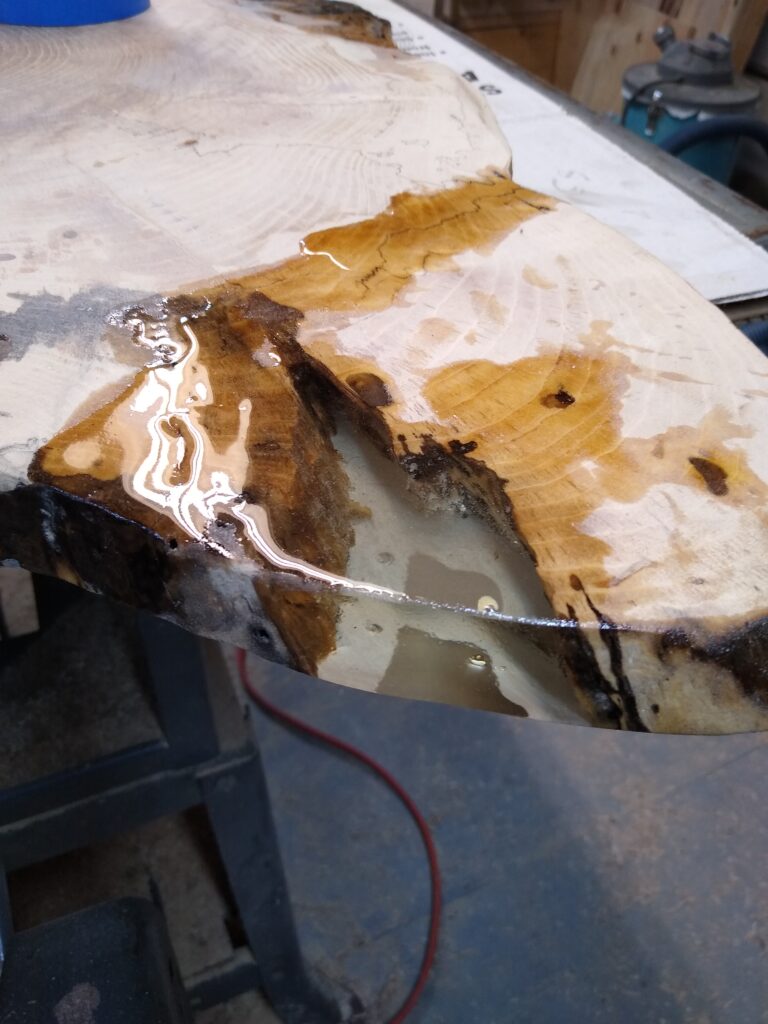 The bottom was final sanded as flat and oiled. The edges were painted with clear epoxy resin in 3 different sessions and layers.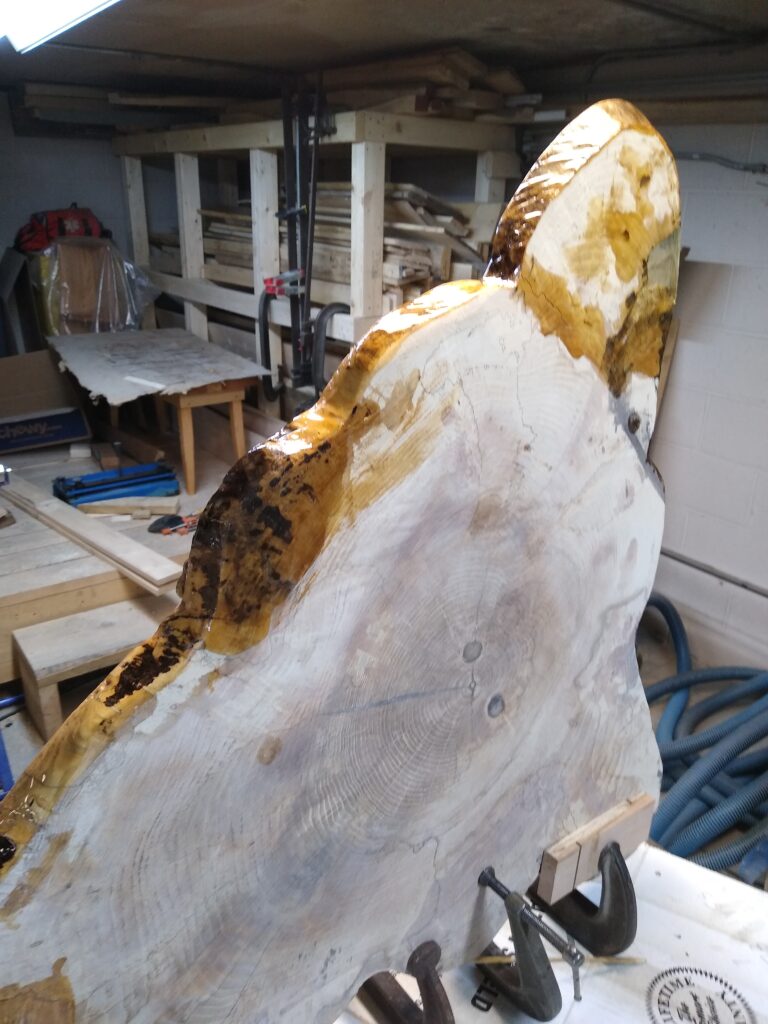 All remaining voids were filled. On the top is one section that drops off (the long 'wing' with the thick epoxy layer. This was filled in 3 different pours with special damming to retain the profile shape.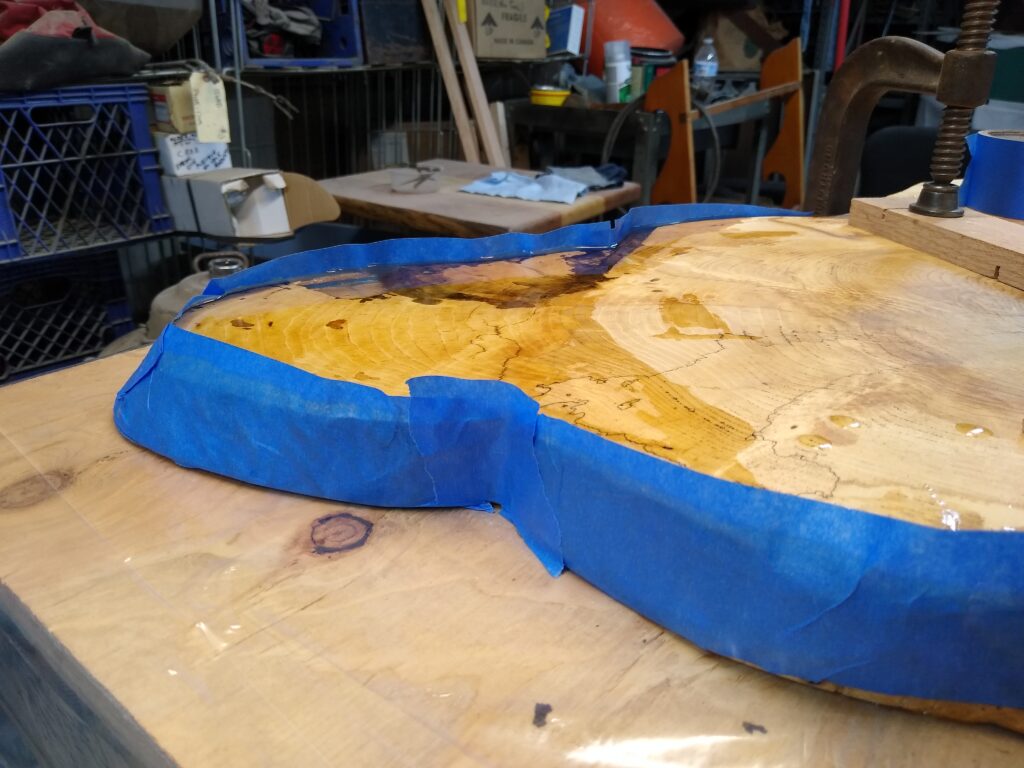 More work was done to epoxy the edges and other spots that were identified. Then it was flipped and the bottom support straps were made from an Ash tree taken from the same property around the same time. This was necessary to provide structural support for the top as well as a strong base for the attachment of legs. This Ash is finished with Tung oil and 2 coats of urethane. The bottom was also given a coat of Tung Oil and Urethane. The legs were spot located, then removed.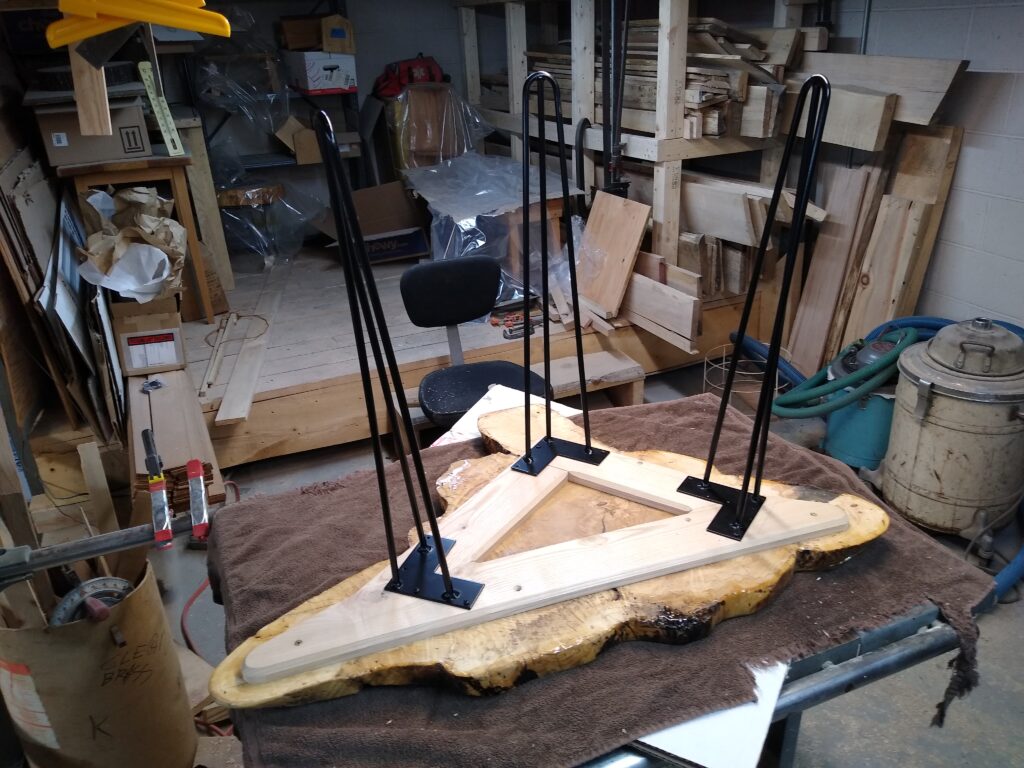 The top was again sanded and oiled. After drying, the top was dammed all around and sealed to retain shape. The top pour was done in 2 separate pourings of approximately 1/8" each to bring it to level.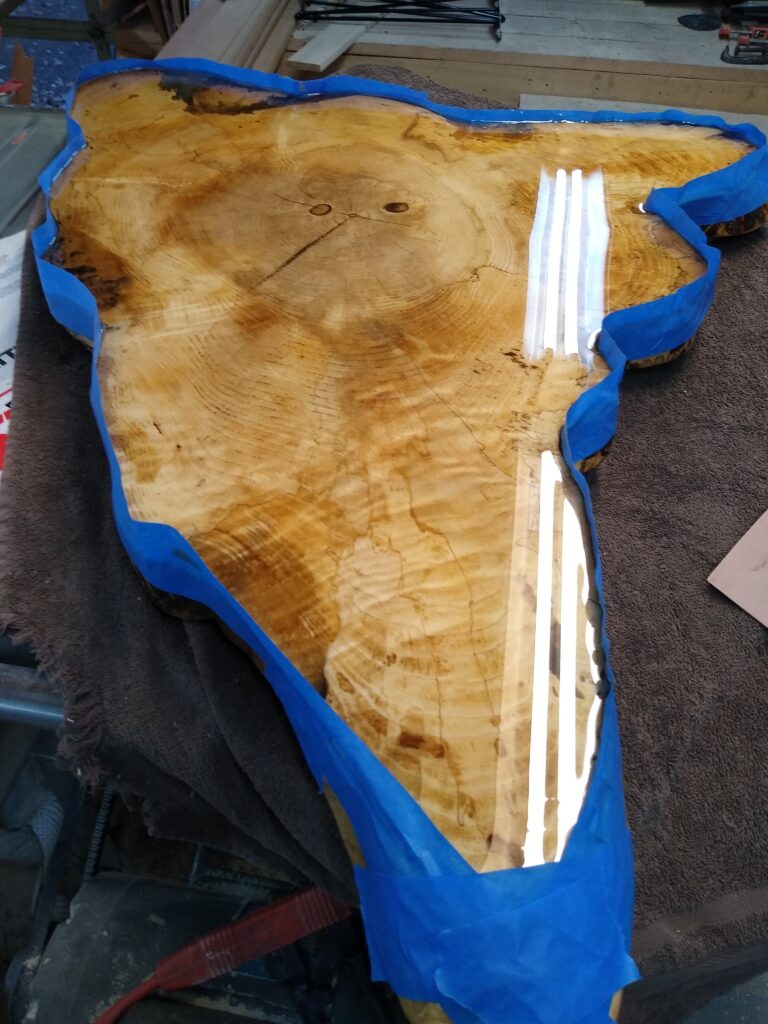 After curing the tape was removed and the mis-match between the side pours and the top pours needed to be removed with a palm sander as well as adding a smooth transition radius. Once everything was properly shaped, the labor intensive part of hand sanding began on the entire top with particular attention to the sides and edges. First done with 800 grit paper, then 1000, 2000, and 3000 grit papers in order, Then a heavy scratch remover, then a fine scratch remover, then a polish. At this point small defects are very easy to see and these areas had to start over with the 800 grit and go through the process until the entire top had uniform 'color' and 'temperature' to the eye. This process of finishing took approximately 15 hours as in some cases areas were gone over one inch at a time and re-done 4 or 5 times until they matched up properly.
When all was judged correct, the legs were given their final attachment and it was 'done'. This table measures 25.75" x 39.5" and stands 25.5" tall. It is important to note that this top is not 'dead flat' like a mirror. That was never a design intent. These surface dips and changes are due to the actual wood imperfections and dips which survived through the various process layers. Some things are not meant to be 'perfect'. Perfection, in so far as human perception is concerned, rarely occurs in nature and this table should not hide that aspect. The intent was to allow the beauty of the wood to be preserved and last many years to be enjoyed by many eyes. I hope your eyes enjoy it.
Tom Lindtveit
Woodsman Forest Products
14 November 2020
Image
---
——————————————————————————————————-
Many thanks to my client for allowing the u—se of this document here.
As always, any comments or questions can be left below.
Tom