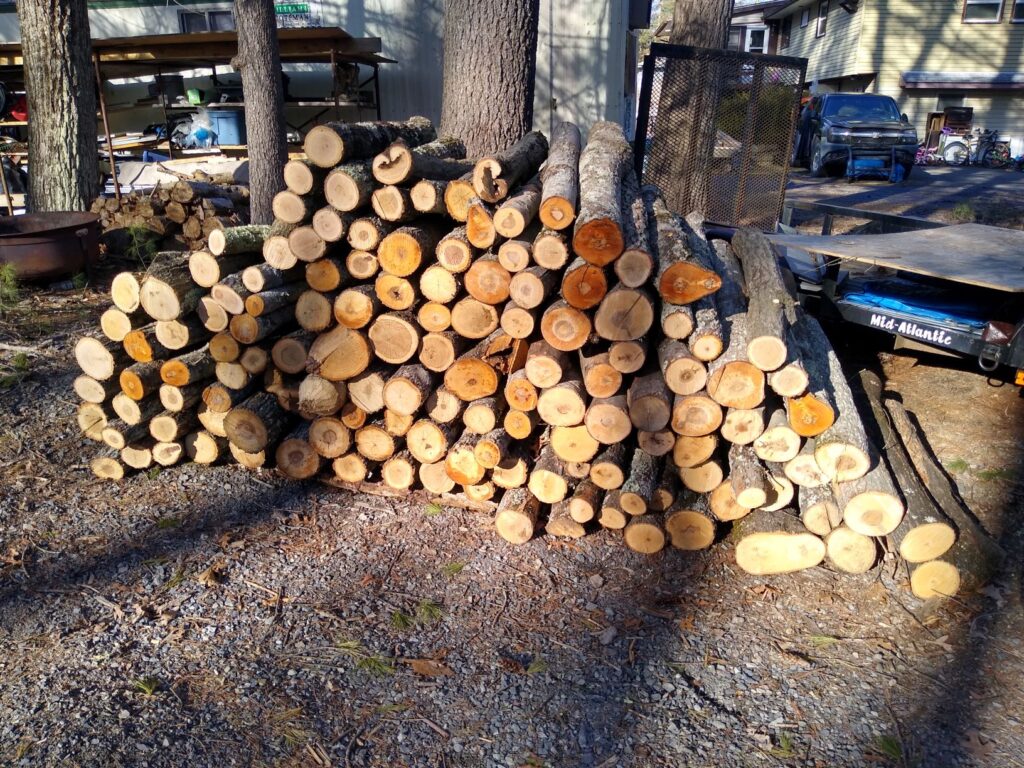 Wanted: Mushroom Logs
Notes for Landowners, Loggers, Land Clearers, & Woodcutters
A small seasonal part of my retirement business is collecting, preparing, and selling logs used in the cultivation of various mushroom species. I do not grow mushrooms myself. 
What is a mushroom log? Well basically it is a clean log 36-48″ long and 4-6 " diameter. These are the trees most loggers and land clearers will chip up, if they don't want to make them into firewood. Many times they are just left to rot in a low spot. I am looking for these logs in Maple (except Red or striped Maple), any of the Oaks, Basswood, Birch, Chestnut, Hickory, Hornbeam, Beech, Alder, Pecan, Sassafras, Sycamore, Tulip, and a few others. No conifers whatsoever. The logs need to be free of scrapes, grapple marks, etc. The bark has to be intact and firm. One or two defects can be waxed over, but on the whole they should be pretty clean. These trees must be cut live, and best cut during the dormant winter season. They can be cut after leaf-out, but many buyers will only buy winter cut. 
If you are clearing lots, doing TSI work or similar and have these trees with no outlet, I can come and get them for mushroom logs. Ideally you just stack these logs out of your way where I can get a truck/trailer near them. I cut to length and hand load and will stack any brush for your chipper operation. I won't leave you a mess, tell me what you want.  I will get out of your way as fast as possible. I can also take these trees down if that works better for you, but I don't want to get in the middle of your operation and we would mark them before I cut anything.  I realize there will likely be a skidder or grapple involved in your work, but if you can try to handle them by the butts and just let the tops drag, most of the log should be clean. I will cut out, or around any bad spots. Yes, this is all hand work for me and it takes some time. I can pay $.50/log for what I take out.
 This work is all done by pre-order because the logs need to be processed at the grower as soon as possible after cutting to length, within a month or two anyway. I am looking for a logger, landowner, or other operation who can stack this on the side at a job site, then give me a call and I will cut and take them when it is convenient to both of us. Or we can find some other arrangement that works for us both.  I try to take orders in the fall, but just like firewood, folks call up after 'the last minute' has passed. There is also summer cut work that can be done for the buyers that will accept those logs.
 If you have an interest, I would love to talk to you and see what we can work out for these logs that usually have no market unless you want to make small firewood out of them. You can also tell your clients this is going to a sustainable use. Give me a call.
Tom Lindtveit
Woodsman Forest Products
(845) 633-4319
Home