We are searching for a catchy name for this, feel free to offer suggestions!
Working with Catskill Fungi and beginning concept discussions in the fall of 2021 I worked off and on through the winter of 21/22 on development of this full log inoculation system. There were several break points where we (John and I) held design reviews to add or modify the design as we went along. The result was delivered on 4/1/22 with the first two full systems.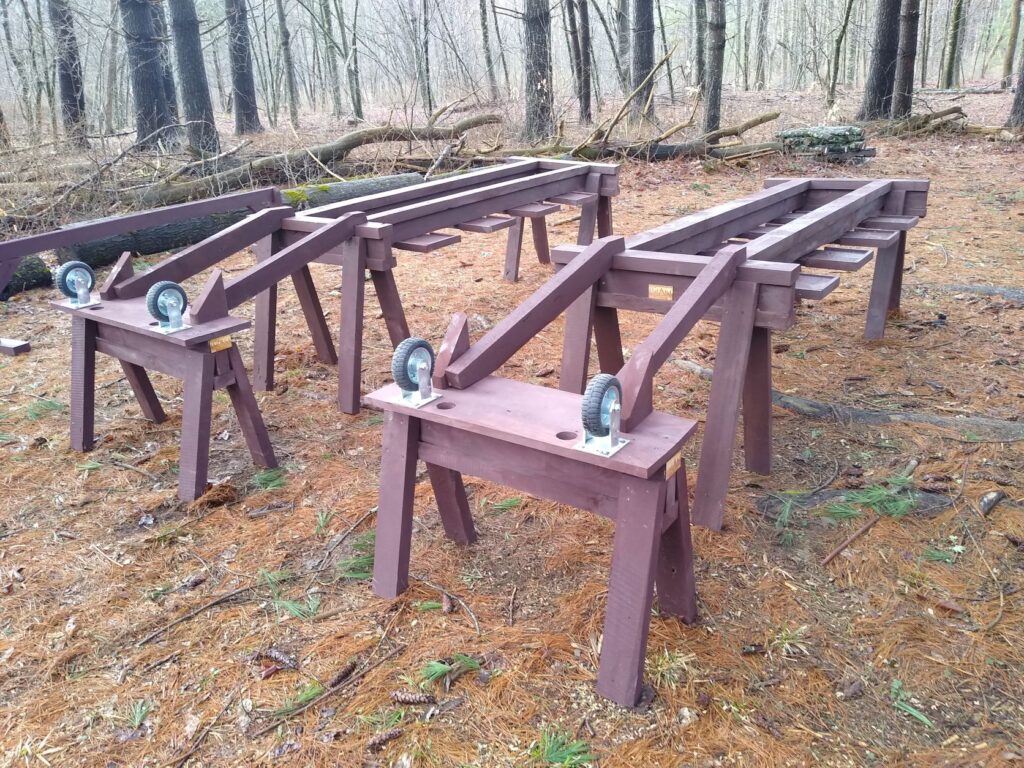 The system is designed to minimize log lifting and includes ergonomic considerations. The concept is that the log is first placed on the drilling station which is located a bit away from the working bench because of flying drill chips. The log is drilled and rotated without having to lift. When done, it is rolled up the rails where inoculators stand on each side to introduce the spawn to their half of the log as they roll it along. It is then passed on to two more people who wax those holes in a similar manner. Finally it is rolled to the end where a label is made and secured then pulled off for stacking.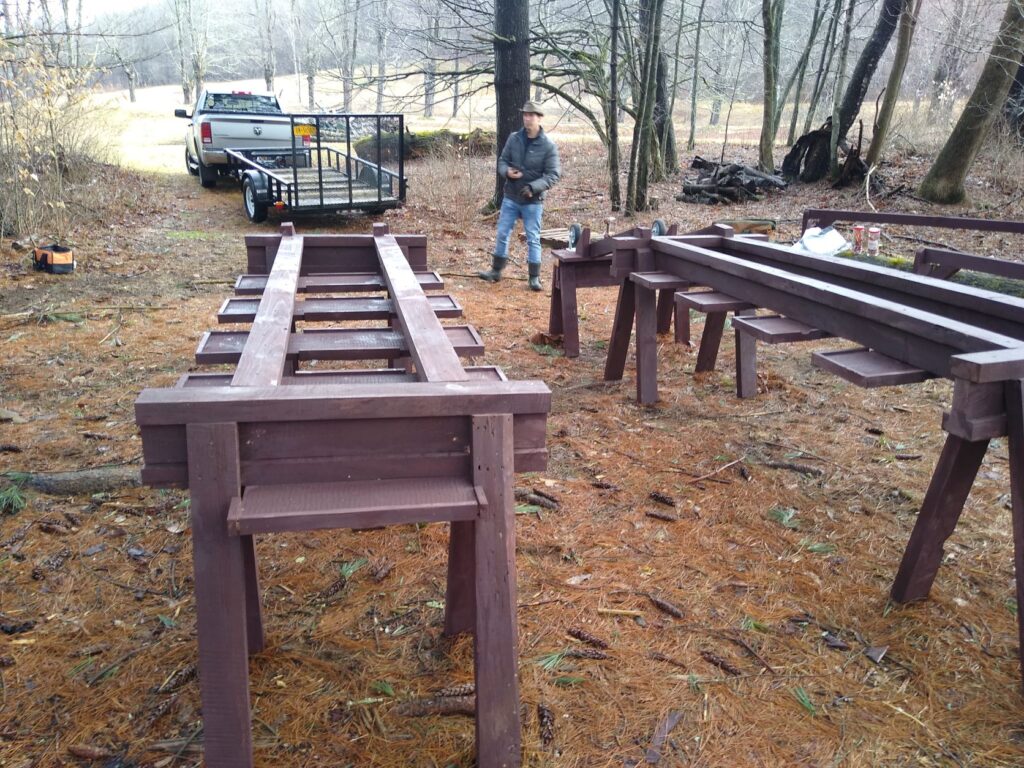 The features of this system include the drilling bench, which is detailed on a separate page (Log Drilling Bench), ramps for moving the log up to the bench, shelves along the bench length which hold the spawn pots, wax cans, and tools. At the far end of the bench is another small shelf to hold the labeling tools and supplies. All shelves are trimmed with edges that will keep any items from sliding off during the heat of battle. Gaps are included to allow water and other 'stuff' to drain and minimizing decay of the shelves. The assembled bench is a about 9 feet long (not counting the drilling bench and ramps) and the working top is just around 8 foot. Width is 36 inches (3′). The entire unit is made from locally sourced Eastern White Pine which I mill up to suit and is painted with a preservative water sealing paint. This is built entirely with screws, not nails, which makes it easy to replace broken or damaged parts or modify it to suit your needs.
When not in use, we have considered storage and minimizing weather damage. We include a ridge beam which is easily set in place and the drilling bench is tucked into the side of the main bench where it nests in closely and the ramps are laid on top of the bench. The entire system is covered with a tarp and secured with supplied bungee cords. We do suggest setting inexpensive flat patio blocks in the ground to ensure a level installation and also minimize direct ground contact of the wood. This is NOT pressure treated lumber.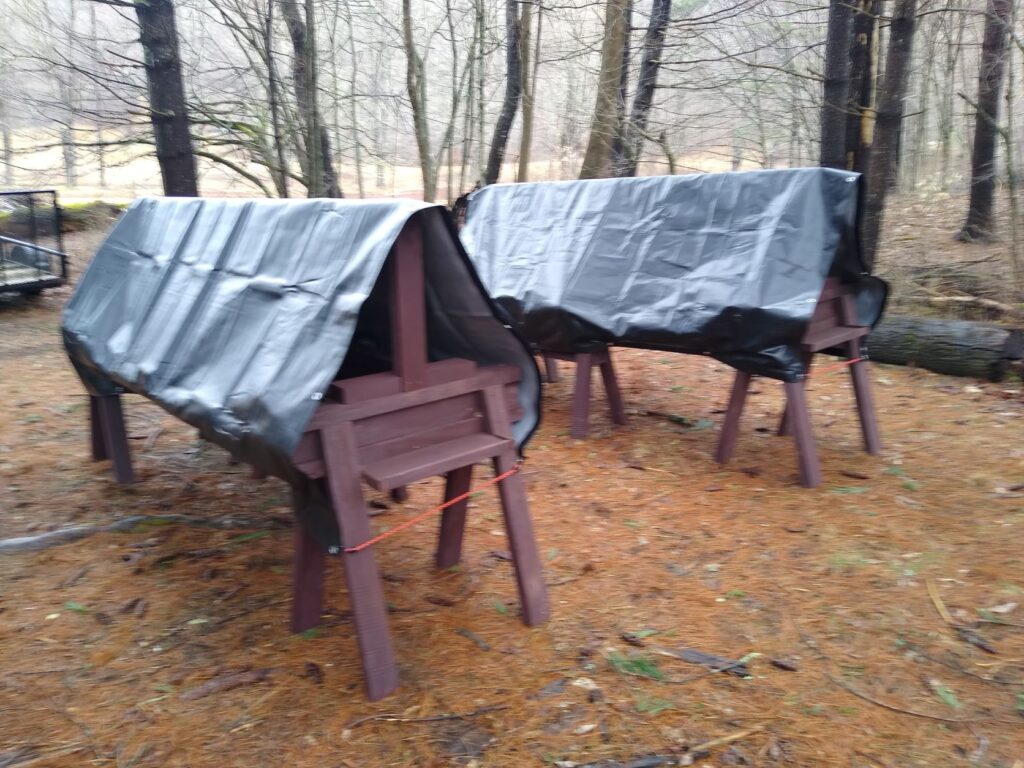 The system includes the drilling bench, inoculation table, the roof support, tarp, and bungees. Total cost is $600. for the complete unit. You can pickup or I can deliver within a reasonable distance for a mileage fee each way. I deliver these with a 10′ trailer but you might be able to fit it in a pickup with a 8′ bed The system can be customized for your needs within reason or ability. I can also offer unpainted if you like or other variations. These are only built to order.
So if you have an interest, questions, or alterations you would like to inquire about, give me a call at (845) 633-4319 or drop me an email (better) at Tom@woodsmanforestproducts.com and we can work it out. I will be adding a video of this being used in the coming months as soon as we can put it together. If you like to see it and use it yourself, sign up for one of Catskill Fungi's Log Inoculation Workshops in Big Indian, NY.
As mentioned at the top, we are still looking for a catchy name for this, preferably something short. If you have ideas, we would love to hear them, so send those along too.